It may not seem like it, but the launch of the 2015-16 NFL season is approaching fast. We are less than a month away from the start of preseason and many teams have already reported for training camp. The offseason is officially over, and here are a few things I will be looking at as we build momentum into september and through the regular season.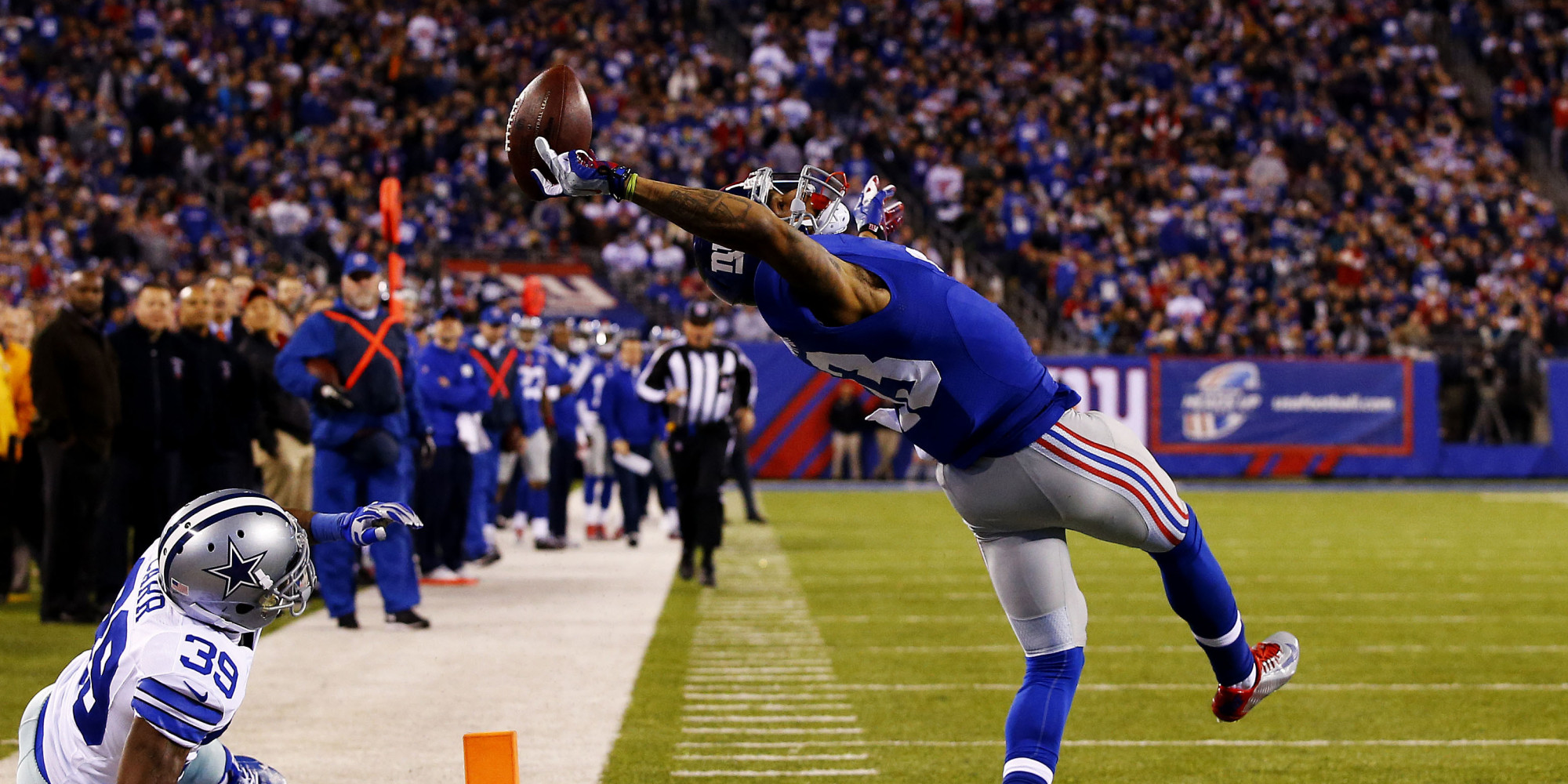 Odell Beckham Jr. – The Catch
5. Sophomore Wideouts
Having an impact in the NFL as a rookie is a challenge in itself, but carrying that success into the following year can be even more challenging. You have another year under your belt, but so does everyone else and your opposition has an extra season worth of film to study, which especially comes into play at the receiver position. Guys like Odell Beckham Jr., Sammy Watkins, Kelvin Benjamin, and Mike Evans all exceded expectations last year, but are all prime candidates to have a sophomore slump this year. Evans and Watkins will both have changes at quarterback, and maybe not for the better. Benjamin reportedly showed up to Carolina's minicamp overweight - something you normally hear about linemen later in the year. Beckham is in the most stable position of the group, but may have flown to close to the sun and has to approach the new season dealing with newfound fame, higher expectations, and
silly stories like this
.
Other members of their draft class to watch include first overall pick Jadeveon Clowney. Once billed as a once-in-a-generation talent, but was hurt in training camp and didn't play a single snap all year.
Also, Johnny Manziel was the youngest player to win the Heisman in college, but had to check into rehab in the offseason. Makes better tabloid headlines than it does for a start to an NFL career.
4. Rookie Quarterbacks
Marcus Mariota
Jamies Winston
After choosing rookies from last year, talking about rookies from this year might be lazy on my part. However, it is incredibly rare to have two Heisman winning quarterbacks selected with consecutive picks. Throughout their career, they will be successes and failures will be measured against each other's. With that in mind, why not start now? Both Jameis Winston and Marcus Mariota will be on teams who have talent on offense and should be improved on defense and will be in about as good a position to succeed as you can expect out of teams that had the first two picks in the draft.
3. Jimmy Graham in Seattle
Jimmy Graham
Graham was once an all-pro tight end and arguably the most feared pass catcher in the NFL. Last year, unfortunately, was a different story. Supposedly hampered by injury, his numbers were down by about one third from the previous year across the board. All of that in the Saints offense with Drew Brees as his quarterback. Now he is in Seattle, and it is yet to be seen whether his talent can translate to a very different offense. There are arguments both ways. Russell Wilson is better at extending the play, giving Graham more time get open, who is already a huge mismatch for most defenders. Also, the Seahawks are a run-first offense, which will help to get even more favorable match ups. However, in New Orleans he had more talent to support him and one of the most accurate quarterbacks in the NFL.
Ultimately, I think it works out, but if it doesn't he will just be a number on the list of big name receiving options that Seattle has missed on after Deion Branch, TJ Houshmandzadeh, and Percy Harvin.
2. Cowboys Defensive Front
Randy Gregory
The Cowboys had a surprisingly good season last year. Behind the best offensive line in the league, a breakout star in DeMarco Murray, and a now seasoned Dez Bryant, the franchise once known as "America's team" was only one controversial call away from the NFC Championship.
In contrast, this year their big question marks come on defense. On the line, they lose Henry Melton, and bring in troubled Greg Hardy as a free agent. In Carolina, Hardy was emerging a disruptive force, but had a ten game suspension related to domestic violence reduced to four games to be served this season. Rookie Randy Gregory, touted as the best pure pass rusher in the draft and was once considered a definite top 5 pick, slid all the way to the bottom of the second round after it was revealed he had some off-field issues as well. Position coach Rod Marinelli might be the best in the business and can get the most out of just about anyone, but Hardy and Gregory will have to stay out of their own way first.
At linebacker, Sean Lee has been stellar - when he can stay on the field. His career has been maligned with injury after injury. After tearing his right ACL in college, his season finished in training camp after tearing his left ACL last year. Players with just one tear have been affected for the remainder of their careers. Talent aside, it's tough for anyone to come back from that, including Lee. If he plays, he will line up next to Rolando McClain, who is also talented, but I continue to question announcing his retirement twice in only four seasons as a pro.
L to R: Chip Kelly, LeSean McCoy
1. Everything About The Philadelphia Eagles
What in the world is Chip Kelly doing? If you have payed attention to the NFL offseason even a little bit, you have probably asked yourself the same thing. A year after losing Desean Jackson to division rival Washington, the Eagles traded pro-bowler LeSean McCoy for Linebacker Kiko Alonso straight up, let Jeremy Maclin leave in free agency without a fight, and traded their starting quarterback for Sam Bradford, who never lived up to his draft status and is coming off two knee surgeries. You have to wonder at what is going on in that front office. The injury history of Bradford and new tailback Ryan Matthews alone is enough to make me hesitant. Some might point out that Demarco Murray had a great year last year, but I would counter that that was only one year behind the league's best offensive line in Dallas.
The best rationale I've heard for this tinkering is that Chip Kelly believes he can rely on his scheme to find success on offense, but is looking for players who are inherently talented and have good instincts on defense. When you look at how promising Alonso was in Buffalo, the addition of Byron Maxwell from Seattle's "Legion of Boom," the emergence of Brandon Graham and Connor Barwin as a pass rushing duo, and how much praise Kelly received for his offensive schemes in college as well as in the pros, then the logic is a little easier to follow.
Still, this the biggest experiment the NFL has seen in the last decade. I get a strong feeling that there is no middle ground. This will work out wonderfully down to every detail, or end in complete disaster. Godspeed Chip.